This was originally published on April 27, 2007. It has been updated -
In the NFL well-regarded draft picks who don't pan out as well as expected are considered busts, and with the 2017 NFL Draft coming after this coming season, looking back on draft picks who worked out and those who didn't has become a cottage industry. NASCAR doesn't have a driver draft, but it has also seen plenty of drivers who were felt to have great potential but who never produced as well as that potential. A look at some of NASCAR's drafting busts..........
**********
Kenny Irwin Jr.
- He was a veteran of USAC short track open wheelers, and he was from Indianapolis. He was considered the next Jeff Gordon because of this background, and he joined Brad Daugherty's #98 Ford in the Craftsman Trucks Series for 1997. He battled Ron Hornaday and Mike Skinner and others in a hard-fought Homestead 300 at Miami and won the race, and followed it up with a win at Texas in June of that year.
Ford then helped slot him with Robert Yates for 1998, but first he needed a few races in a satellite Yates car for latter 1997. David Blair Motorsports provided the car, Yates provided the hardware for the car, and at the Capital City 400 at Richmond, Irwin timed in the top five, led 12 laps, and finished eighth. His finishes in three other races that season were uninspiring, but the potential was seen to be there.
But in his first outing in Yates' #28, he took out Todd Bodine in a wreck in his Daytona 125 and in the 500 ran mediocre all day. Mediocrity permeated his rides until he stormed to the front and led over 100 laps in the Atlanta 500, ultimately finishing fifth. But his driving didn't improve as the season went on other than a June spurt of top-15 finishes - he failed to make the field at Charlotte; at the Brickyard he ran strong all day but crashed; at Martinsville he needed a relief driver, earning a rebuke from Yates about partying too much instead of working on his racing. In all he managed only six lead-lap finishes in 1998.
The 1999 Daytona 500 promised to be a launching pad for improvement; instead it effectively ended his car owner's confidence in him. He hooked teammate Dale Jarrett into a massive wreck in Turn Three past halfway; Irwin rallied from mid-pack and finished third, but he crashed twice in the next four races and was generally uncompetitive anywhere he ran. He finished on the lead lap only nine times and was released from the Yates ride.
He joined Felix Sabates' Chevrolet team for 2000 and the pattern of mediocre racing continued; only a fourth place at Talladega broke the ice. At New Hampshire before qualifying he was killed in a horrendous hit in Turn Three. It was a tragic ending to a young driver's career.
**********
Greg Sacks' last NASCAR win was a wild one in the Busch Series at Talladega
Greg Sacks
- Talk about doing it the hard way, Greg Sacks lived that saying. Managing to run the full Winston Cup schedule only twice, he jumped from team to team to an inordiante extent after a successful Modified Series career with Ernie Wilsberg. His first run in a Winston Cup car was a Daytona test with Richard Childress in which he flew bottom-first into an earthen embankment and flipped to the trioval, his helmet falling out of the car; he suffered a broken collarbone. He drove his own car until DiGard Racing signed him to drive an experimental Chevrolet for the 1985 Firecracker 400. He shocked the sport by whipping Bill Elliott for the win.
It was his only Winston Cup win, but he kept plugging, joining whatever team would hire him. Hendrick Motorsports hired him for racecar film work in latter 1989 and early 1990, and Hendrick entered a fourth car for selected races in 1990; he fought Dale Earnhardt to the end and finished second in the 1990 Winston 500. He fought for the lead at both Pocono races, finishing seventh in June and getting into a seven-car melee in July, before the effort dried up at the end of the year.
In July 1996 Gary Bechtel hired him for his team, and in BGN's Talladega 500k he fought for the lead - and early on caught Phil Parsons in the right rear in a wreck that swept up seven others - and bested the field in a torrid race.
He nearly won at Talladega again, this time in the 1997 Die Hard 500 when he jumped into Felix Sabates' #40, but when Jeff Gordon swerved into John Andretti the ensuing melee wiped out 20 cars; Sacks and Sterling Marlin wound up wedged into each other.
Sacks was seriously injured at Texas in 1998, and while he returned to race again the magic was gone. The shame of it is he showed he had the talent to be a serious contender; he really should not have been a bust.
**********
Rob Moroso's career was defined by this wreck
Rob Moroso
- He entered BGN in 1987, and in 1988 won at Charlotte, then won the championship in 1989. He then moved up to Winston Cup and went nowhere. In late September of that year he was killed in a highway accident following a race at North Wilkesboro. He was awarded Rookie Of The Year honors anyway.
**********
Always close, never in contention - such was Mike Skinner
Mike Skinner
- The first graduate of the Craftsman Truck Series, Skinner won poles in his rookie season, driving RCR's #31 Chevy, but was uncompetitive in race trim, until in mid-1998 crew chiefs were swapped and Larry McReynolds, a bust as Dale Earnhardt's crew chief, took over, and Skinner suddenly began to find some form. He mixed it up quite a bit in 1999 and 2000, blowing in the final 25 laps of the 2000 Atlanta 500 after leading over 180 laps. He came within two laps of a win at the 2000 Die Hard 500.
When McReynolds left after 2000 Skinner's racing collapsed. He was released from RCR in October 2001 and fired from Morgan-McClure in June 2003 after managing just one top-ten finish in over one season with the team. He returned to the Trucks, found some of the magic he once had, but finally quit for good after just two starts in 2011 and 2012.
**********
This was Ken Schrader's highlight - yet one can't help but say Tim Richmond watching this clip
Ken Schrader
- He managed four Winston Cup wins, but it says a lot about his career that none of them are widely remembered. He won the 1988 Die Hard 500 in Harry Hyde's final win as a crew chief, then won at Charlotte in 1989. He slogged through a winless 1990 and somehow won twice in 1991, but since June at Dover that year he's failed to scratch. Curiously, Schrader's endless short track endeavors have never become an issue to his team owners even though they have long served as a distraction, a sign of a lack of seriousness to his Winston Cup commitment.
**********
Michael Waltrip's last Winston Cup win
Michael Waltrip
- His mouth has helped him keep rides and made him a fortune in sponsorship endorsements, but his racing has been less than stellar throughout his long career. He spent 15 seasons without a Winston Cup win and without a single top-ten points finish, yet some still believed he had that potential. Dale Earnhardt apparantly thought that, as Ron Hornaday was released from his NAPA-sponsored team and replaced with Waltrip for the 2001 season. Waltrip then somehow won the Daytona 500 of 2001, and was nearly run out of town that October. He pulled off wins at Daytona in 2002 and in 2003, then won at Talladega. He hasn't scratched since and has tried to field a Toyota team with three cars.
Amazingly, in eight full-time seasons as a car owner Michael Waltrip has won seven races, yet his team was torn asunder in the 2013 Richmond fake-caution scam and after Robert Kaufmann left the organization it fell apart.
**********
One of NASCAR's craziest races produced its most unlikely one-shot wonder
Bobby Hillin Jr.
- It was one of the most exciting racing upsets ever; Bobby Hillin Jr. raced past Tim Richmond and won the 1986 Die Hard 500. After that his career spiralled downward. He struggled everywhere, blew a possible win in 1990 at Daytona by a spin, then appeared done, limited to substitute rides with SABCO in 1991 and a lowly satellite RCR ride owned by Martin Birrane, until in 1992 Davey Allison's injury put him in Robert Yates' #28 for a relief role at Talladega, and he rocketed to the lead and finished third. Yates helped Junie Donlavey get his team stronger and Hillin drove the car. He fought for the lead at the 1993 Daytona 500 but got swept up when Dale Earnhardt cheapshot Al Unser Jr. off Four late in the going; despite losing his brakes Hillin foolishly tried to keep his car running and plowed backward into a surprised and furious Kyle Petty. Hillin then earned the helmet-throwing wrath of Dale Jarrett at Bristol and failed to record a top-ten in less than 40 starts with Donlavey. Hillin drifted from ride to ride after that and was done in racing by the end of 2000.
**********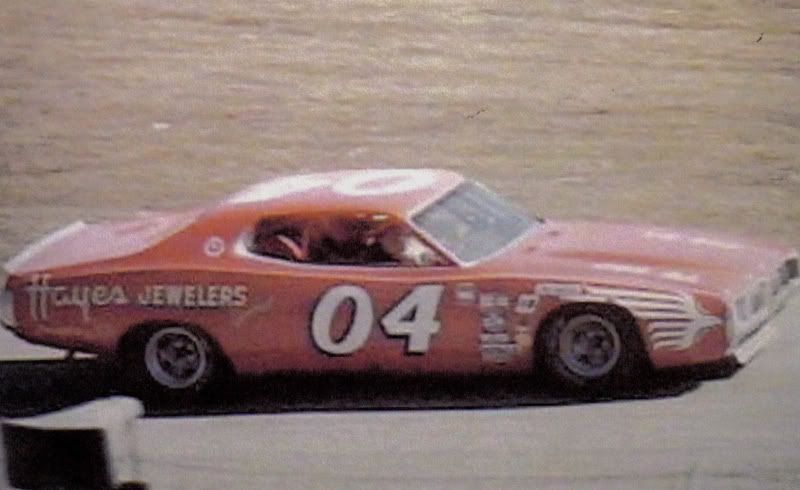 Joe Millikan
- He was highest placed of the Rookie Class of 1979 in that year's championship points, managing five top five and fifteen other top-ten finishes. When L.G. DeWitt Racing folded in May 1980 Millikan was drifting, until Richard Petty's bad Pocono wreck put him in a relief role that he handled well. He ran for rahmoc in 1981 but was released and wound up the season with Cliff Stewart, but that deal was ended early in 1982 and Millikan ran only sporadically afterward. His career ended barely four years after it had begun.
**********
Robert "Bootie" Barker
- Not all busts are drivers. His extensive TV work has made Robert Barker a well-known crew chief in the sport, but one strains to find where he ever won anything in this capacity. Not that he's a bad crew chief, but his lack of success on the track doesn't speak highly of his true ability.
**********
The highlight of Jason Leffler's career was taking out Michael Waltrip and Dale Earnhardt Jr - Junior in Turn Four, the ultimate irony - at Daytona
Jason Leffler
- He was a 2001 rookie with Chip Ganassi, and he went nowhere. He raced Jim Smith's Dodge Truck, and at New Hampshire had a sure win, but threw it away trying to lap a Truck and wrecked. He did manage a win in the Smith #2 in 2003, but was gone from the Truck after that, jumping into Gene Haas' BGN car. He won at Nashville in 2004 and at Daytona slammed Michael Waltrip and Dale Junior into the wall on the last lap, finishing second to Mike Wallace in the decade's wildest finish to that point. He thus got a second Winston Cup chance, this time with Joe Gibbs and a third JGR Chevy, and as before it went nowhere, his tenture not reaching the end of the year.
In roughly 430 combined stock car starts Leffler managed just three wins, none of them memorable.
He was killed in June 2013 in a sprint car race at Bridgeport, NJ, days after racing in the Pocono 400.
**********
John Wes Townley's sole highlight as a racer to date is winning the ARCA 200 at Daytona
John Wes Townley
- While expectations here haven't been high, Townley has stood out as an example of a driver who's able to bring sponsorship to a team yet go nowhere with it - and has even been
called out on his abysmal showings.
In his career, such as it's been, Townley has raced a plethora of stock car events and has two wins (the Daytona ARCA 200 in 2013 and again in 2016), five additional top-fives, and eighteen additional top-tens - fourteen of them in ARCA. He has the Zaxby's restaurant chain as his primary sponsor - his dad Tony Townley is the chain's co-founder.
One would think this guy would have shown some kind of talent by now.
**********
Paul Menard
- The scary part for the RCR team in 2016 - right now Paul Menard is their on-track leader. Richard Childress' team has struggled since Kevin Harvick left, and the idea of Paul Menard - another driver able to bring sponsorship yet do little to nothing with it for his racing - being a leader of a contending Cup team is laughable. He's managed 109 top-tens in some 460 combined stock car starts - 76 of them in the Busch Series; notably he managed only one career win driving DEI Busch Series cars Dale Junior and Martin Truex won 36 times with.
His one Cup win was a fuel mileage win at Indianapolis - with the requisite irony that Indianapolis is the home base of the Menards store chain. His top-tens have averaged to roughly four per year in his Cup career.
**********
Danica Patrick
- She has raced well over 300 times between stockers and Indycars - where she first made herself known in racing - with quality equipment throughout her career, and has just one win and sixteen top tens and little in the way of laps led to show for it. When FOX Sports did a puff piece claiming improvement in her racing, it ran counter to the stats and the hard analysis of her racing. Because her gender is her entitlement to race and the wall of immunity against objective criticism of her.
They aren't the only drafting busts, and they won't be the last.